The safest, most reliable hidden dog fence in Northern Indiana... no getting around it.
We understand that your pet is an important part of your family. With our outdoor hidden dog fence and indoor pet containment systems, you can have peace of mind about the safety of your dog or cat.

Hidden Pet Fences - Freedom and Safety for Your Pet
The most important reason to choose an underground dog fence from DogWatch® is because we care as much about your pet as you do. Our Pet-Friendly™ products and owner-friendly service are designed to give you freedom and flexibility while keeping your cat or dog safe at home. If you want the best pet containment products for your furry companion, be sure to ask for DogWatch by name.* And, don't forget, a DogWatch Hidden Dog Fence works great for cat containment, too (indoors and outside)!


Pet Containment - Save Money (and your view)
Our hidden dog fence is more versatile and much less expensive than a traditional dog fence. We offer the highest quality, most user-friendly pet fence systems at a price that is competitive with other comparable dealer installed underground pet fences. Additionally, we offer a lifetime equipment warranty and the most cost effective battery in the pet containment industry. Contact us today to learn more.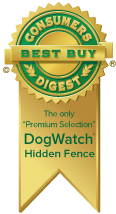 DogWatch® is not Invisible®
DogWatch "hidden fences" are often mistakenly referred to generically as "invisible fences". Invisible Fence® and Invisible Fencing® are Brand names, products and registered trademarks of Radio Systems, Inc. Click the links below to learn more:
Read more and write us a review on our Google+ Page
Last Updated ( Monday, 23 November 2015 18:31 )
We've had the DogWatch System at two houses for our three dogs, and DogWatch has always been there when we've needed them. Their systems have made us and our dogs very happy.

Jeff Decatur, IN
From the 'DogTails' Blog